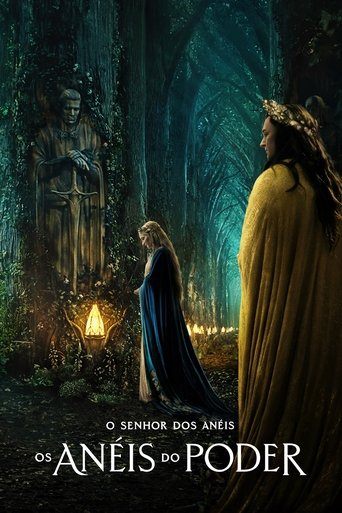 »INFORMAÇÕES«
Título Traduzido: O Senhor dos Anéis: Os Anéis de Poder
Título Original: The Lord of the Rings: The Rings of Power
IMDb: 6,7/10
Ano de Lançamento: 2022
Gênero: Ação, Aventura, Fantasia
Formato: MKV
Qualidade: WEB-DL 720p, 1080p, 4K
Áudio: Português, Inglês
Legenda: Português
Tamanho: — GB
Qualidade de Áudio: 10
Qualidade de Vídeo: 10
Duração: 60 Min./ Ep.
Servidor: Torrent
SINOPSE: Antes da jornada de Frodo pela Terra-Média, a Segunda Era foi palco de diversas lendas heróicas. O drama épico que se passa milhares de anos antes de A Sociedade do Anel, tem foco em um momento da história em que grandes poderes foram forjados, reinos ascenderam e também ruíram, ao mesmo tempo em que heróis foram testados e tiveram a esperança quase aniquilada pelo grande vilão do universo de Senhor dos Anéis. A série começa em um momento de paz, quando o elenco de novos e antigos personagens precisam enfrentar o ressurgimento do mal, vindo das profundezas mais escuras das Montanhas Sombrias. Os reinos e personagens irão esculpir legados que viverão por muito tempo depois que eles se forem.
O Senhor dos Anéis: Os Anéis de Poder 1ª Temporada Torrent (2022) Dual Áudio 5.1 / Dublado WEB-DL 720p | 1080p | 2160p 4K – Download
---
:: DUAL ÁUDIO ::
Episódio 01 e 02: 720p | 1080p
…
---
:: LEGENDADO ::
Episódio 01: 720p | 1080p | 2160p 4K
Episódio 02: 720p | 1080p | 2160p 4K
Episódio 03: 720p | 1080p | 2160p 4K
Episódio 04: 720p | 1080p | 2160p 4K
Episódio 05: 720p | 1080p | 2160p 4K
Episódio 06: 720p | 1080p | 2160p 4K
Episódio 07: 720p | 1080p | 2160p 4K
Episódio 08: 720p | 1080p | 2160p 4K
…